Crowdlending
The modern way to grant loans
All about Peer-to-Peer Lending – for borrowers and investors
You want to know what Crowdlending is, its benefits for borrowers and investors and how this modern way of financing works? Learn all about Crowdlending here!
What is Crowdlending and how does it work?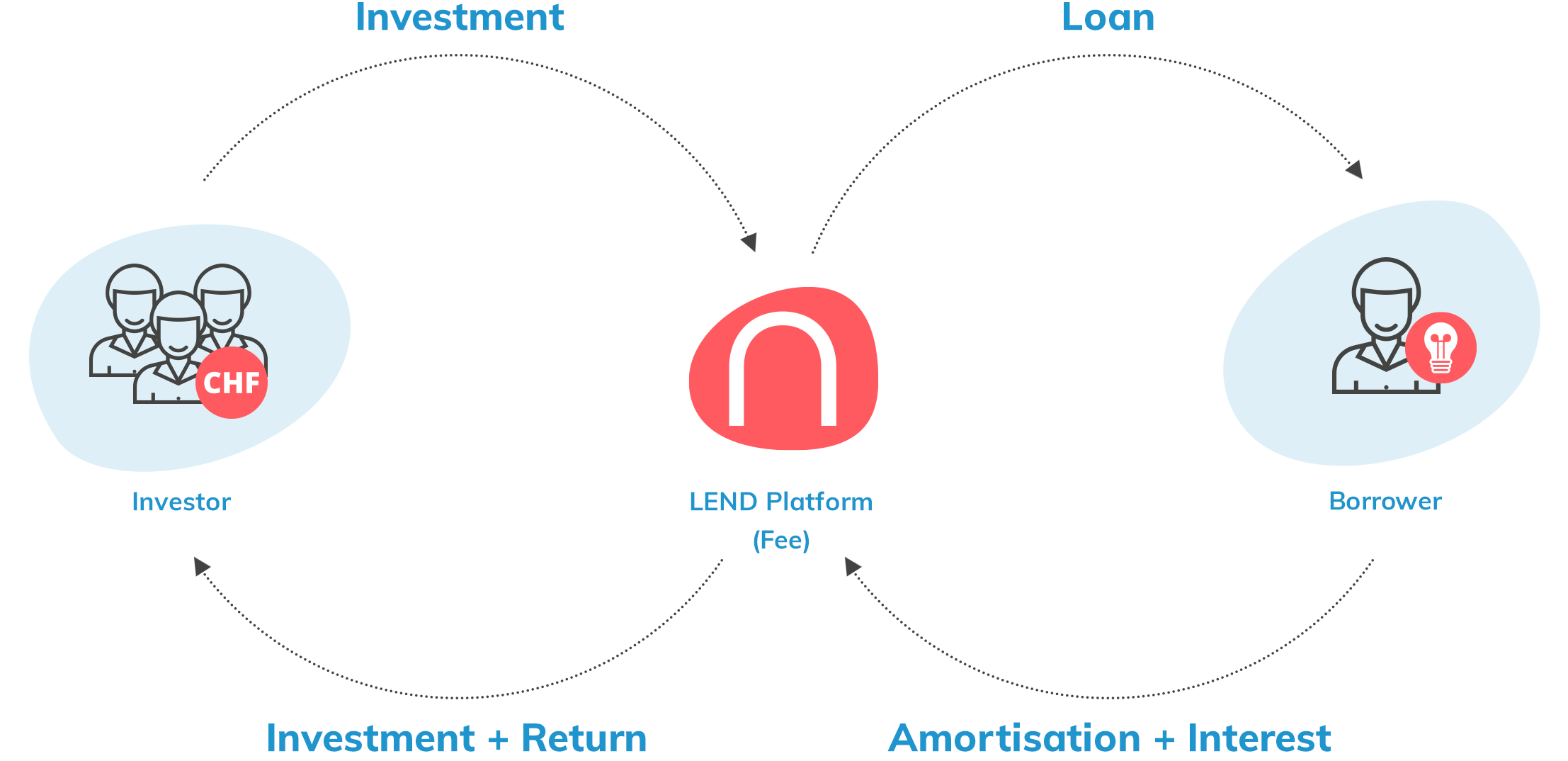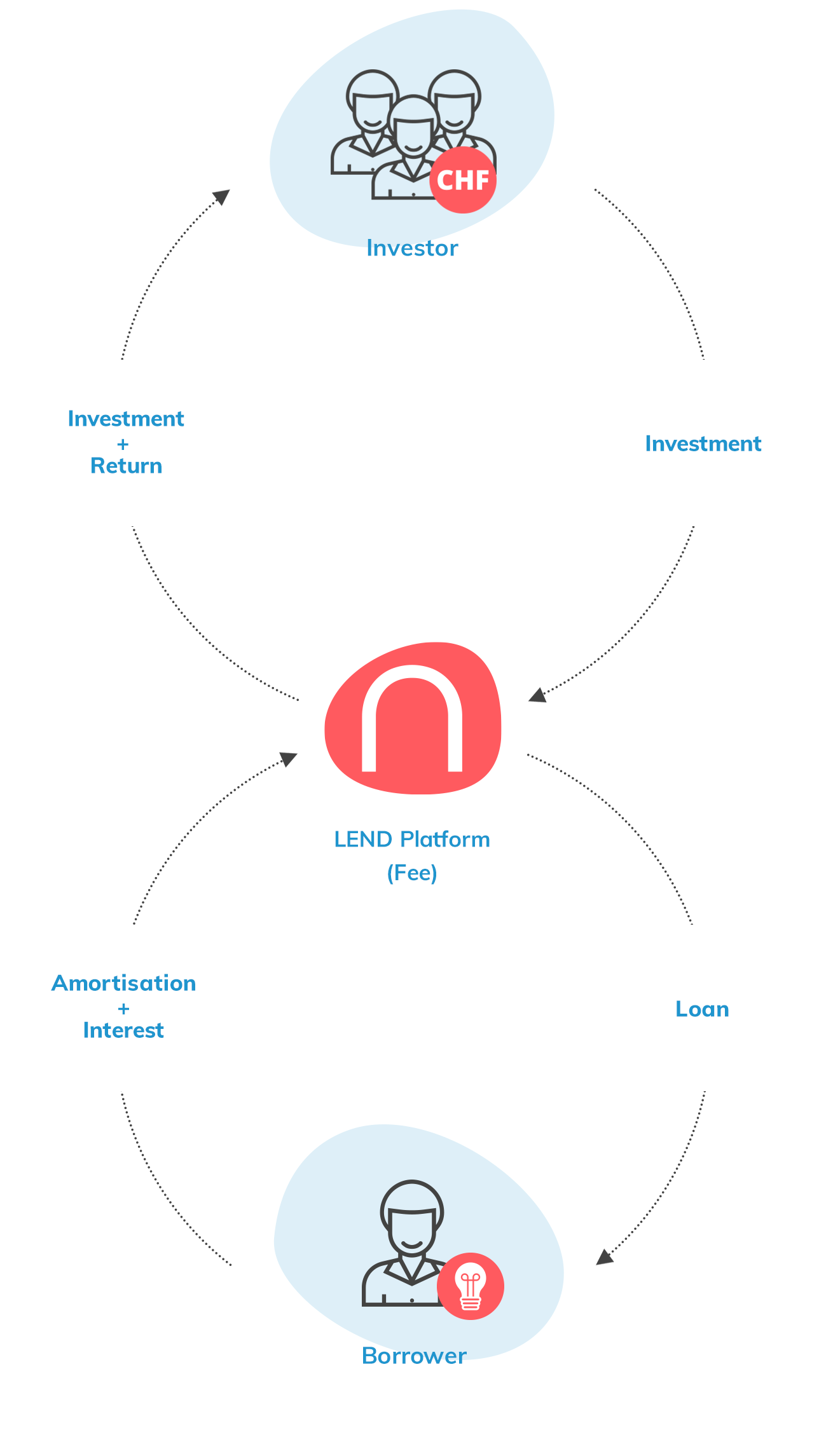 Crowdlending (often also called Peer-to-Peer Lending or just P2P Lending) refers to the granting of loans via the internet through the crowd. On Crowdlending platforms such as LEND, borrowers can apply for a loan and investors can directly finance such loan projects. LEND acts as a marketplace and processes the documentation and all payments between the parties.
How do Crowdlending platforms and banks differ?
Crowdlending platforms …
Banks …

Crowdlending platforms …

… grant loans without using their own capital

Banks …

… grant loans financed with own capital and customers" savings deposits

Crowdlending platforms …

… earn money exclusively with low fees

Banks …

… earn money through fees and interests

Crowdlending platforms …

… enable investors to invest in projects of their choice

Banks …

… do not allow investors to directly influence the use of their deposits

Crowdlending platforms …

… operate online and with highly efficient and automated processes

Banks …

… work traditionally and as a result cost-intensive
Crowdlending: Advantages for borrowers
Benefit now from the advantages of bank-independent borrowing
Easy application
You benefit from an easy loan application fully online - without time-consuming visits to a bank branch.
Immediate review
Using state-of-the-art IT processes, we review your loan application and can thus decide swiftly on your loan application.
Low interests
Crowdlending platforms often offer better conditions than traditional institutions. With LEND you can get loans from 3.5% annual interest.
Less bureaucracy
On P2P platforms, you enjoy the advantages of less bureaucracy and simple, fast processes.
Crowdlending: Advantages for investors
Benefit from the attractive investment in Crowdlending loans
Easy investing
Crowdlending loans are straighforward investment products. You invest directly in loans and decide where you put your money to work.
Higher yield
Thanks to lean structures and without a bank acting as an intermediary, we save costs - and pass these savings on as additional return.
Investment with small amounts
You can invest in small portions of a loan which allows you to build a diversified portfolio even with small amounts.
Control over investments
You put together your tailor-made portfolio and choose the mix of term, interest rate and risk. With this you can target specific returns.
Any questions?
We are here for you!
Step-by-step instructions for your Crowdlending loan
The path to a Crowdlending loan explained
Worth knowing: The loan agreement is concluded with LEND. This avoids a direct contractual relationship between the borrower and investor, which reduces the legal burden for both parties and provides greater protection of their privacy.

Good to know: The loan amount can also be repaid prematurely at any time.
Crowdlending in Switzerland - a future market
"Confidence in this new type of borrowing is growing constantly!"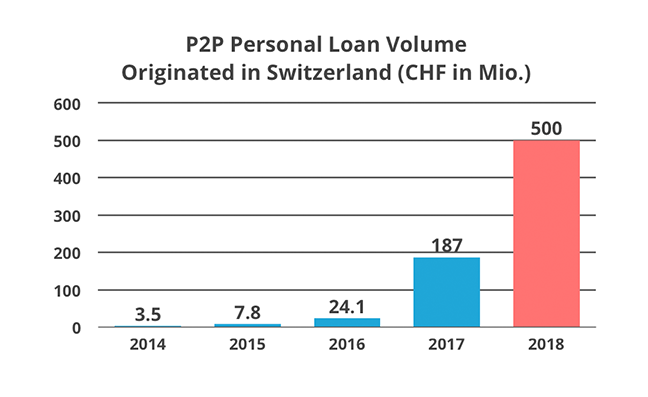 The Crowdlending market in Switzerland comprises three different types. While Consumer Crowdlending focuses on granting personal loans, Business Crowdlending focuses on business loans. Mortgages are granted as part of Real Estate Crowdlending.

The number and volume of loan projects financed continue to grow at a high annual rate. More than 2000 loans were financed in 2017 representing a total volume of approximately CHF 200 million - an increase of more than 200 percent compared to the previous year. For the year 2018 a volume of CHF 400 - 500 million is expected (Source: Crowdlending Survey 2018, as of 05/2018).
That shows: "Confidence in this new type of borrowing is growing constantly!".