Invest in Swiss loans
Better returns with interesting loan projects
Invest together in Swiss loans
Invest with LEND in the Swiss loan market. Build a diversified portfolio and generate much higher returns compared to similar investment opportunities.
Your investment amount in CHF
Interest Income p.a.
in CHF
Investment opportunities at LEND
Invest in Swiss loans directly or indirectly - the choice is yours.
LEND offers private and institutional investors different opportunities to invest in personal and business loans.
Any questions?
We are here for you!
Compelling arguments
There are many compelling reasons for investing in loans with LEND. See for yourself!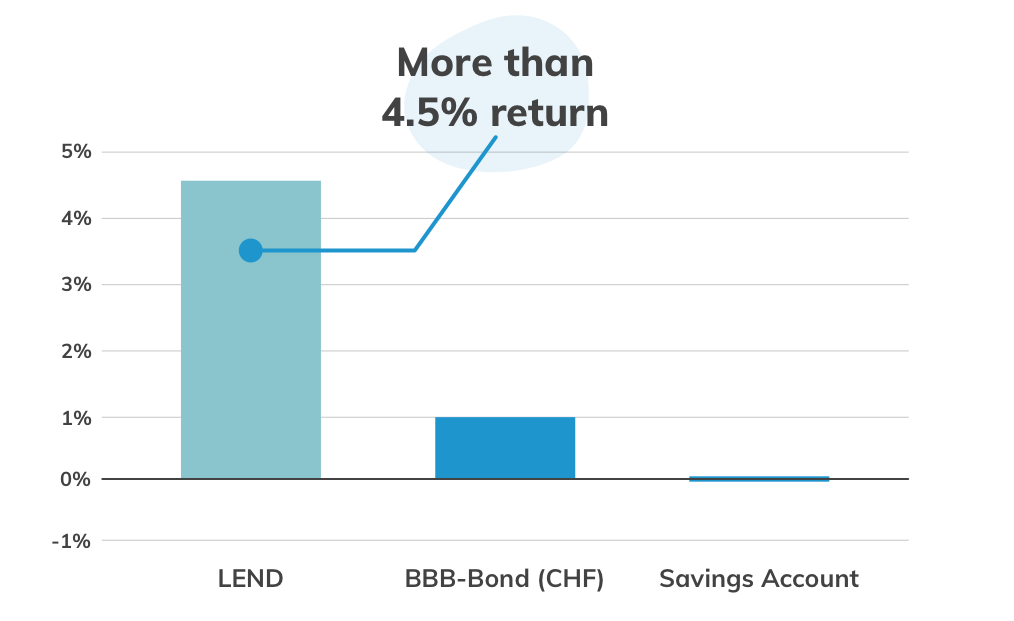 High returns
While LEND offers fair interest rates for borrowers, returns for investors are significantly higher compared to a savings account but more importantly compared to investments with similar risks. Create a diversified and high-yielding portfolio by investing in different scores and terms.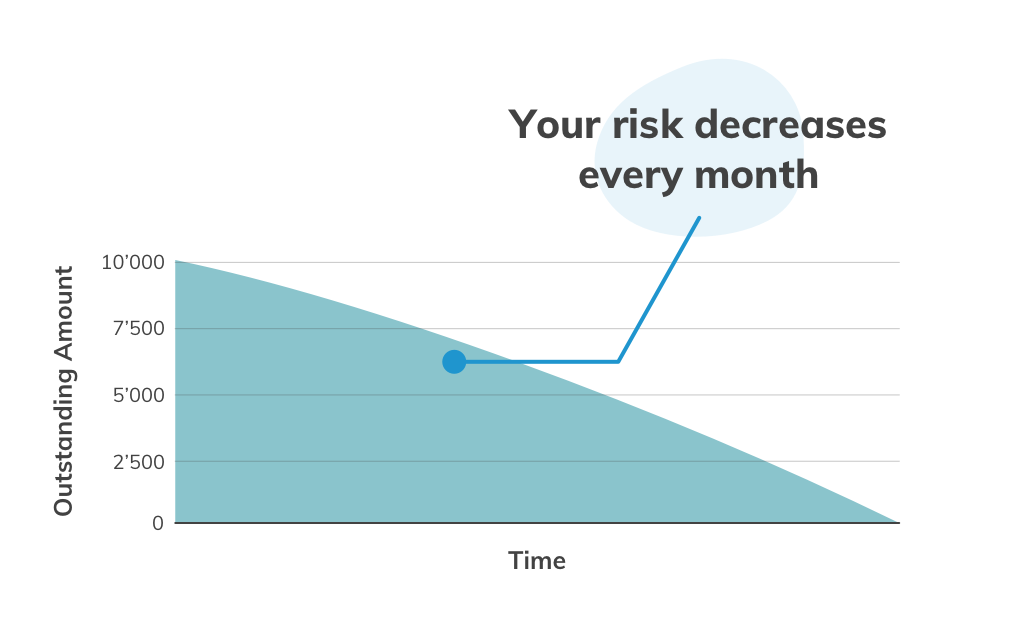 Amortisation reduces your capital-at-risk
Monthly repayments reduce the outstanding capital constantly. You can reinvest the repayments in new loans and thereby optimise the diversification and return potential of your portfolio. At mid-term your capital-at-risk is reduced to around 50%.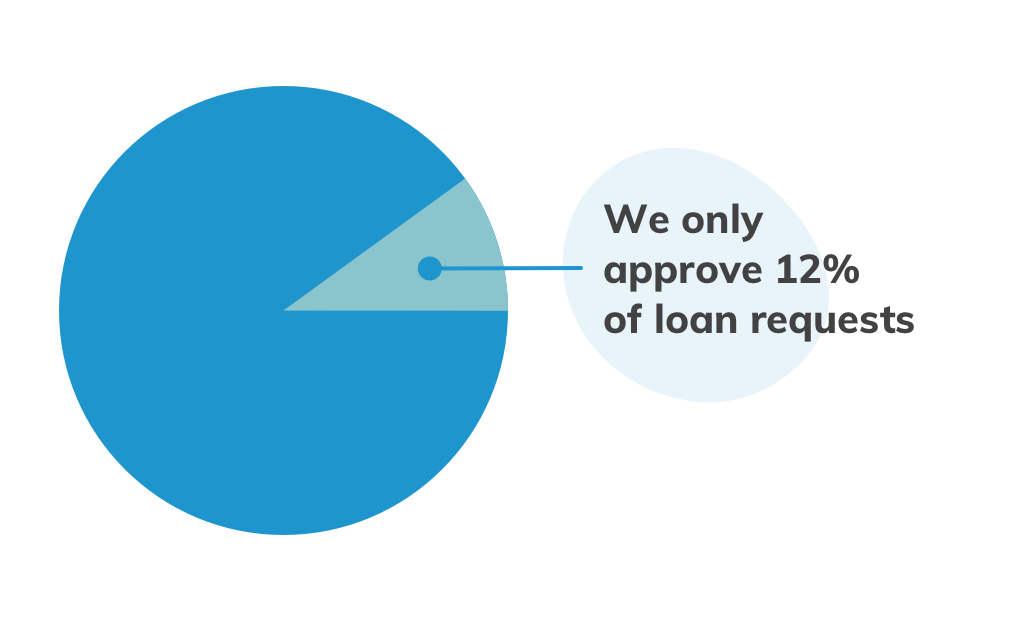 Thorough risk underwriting
We take a very close look! And because we do, we only approve 12% of loan applications for funding by our investor community. Our rigorous credit underwriting pays off. A clear advantage! Read more about our risk underwriting and scores.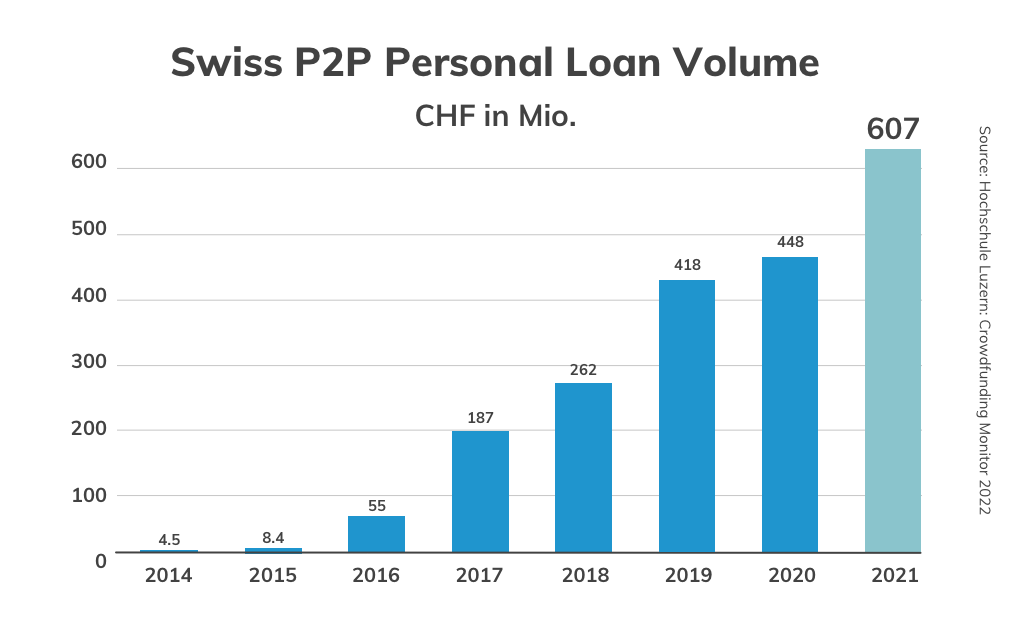 Crowdlending is a growth market
Investors and borrowers both profit from crowdlending aka peer-to-peer lending. Without a bank in the middle your costs are low and returns high. And in addition to that, LEND is 100% transparent.
Learn more about risk and return
You cannot expect return without risk. However, the loan market is a new asset class that provides significantly higher returns than comparable investments. LEND enables you to achieve your expected return thanks to a top-notch investor cockpit, full cost transparency, and a comprehensive and stringent risk analysis of each loan applicant.
Risk Scores at LEND
LEND assesses the creditworthiness as well as the financial standings of each borrower. We check relevant data and work closely with third-party databases such as ZEK, Crif and Intrum. LEND's proprietary algorithm calculates a default probability and derives the appropriate risk score for each borrower.
Category
Typical Borrower Characteristics
Very stable life: address, employer, partner
Exceptional loan payment track record
Home owners eligible for A+


Proven solid track record, well diversified, hardly vulnerable to adverse changes
Strong capacity to meet its financial commitment; Often with credit enhancements
Solid security in place
Nominal Interest 1)
Targeted Return 2)
Expected Cumulative Loss Rate3)
3.07 - 4.90%
1.79 - 3.69%
0.19 - 1.11%
3.32 - 5.90%
2.22 - 4.76%
0.29 - 1.69%
Category
Typical Borrower Description
Stable life: few address and/or job changes
Positive loan payment track record


Well positioned in domestic market, little diversified, capable of absorbing setbacks
Solid capacity to meets its financial commitment; Sometimes mitigated by securities
Nominal Interest 1)
Targeted Return 2)
Expected Cumulative Loss Rate3)
4.10 - 7.30%
3.06 - 6.27%
0.40 - 3.30%
Category
Typical Borrower Description
Changing life situations
Few or no loan payment records


Challenge to keep market share, hardly diversified, some exposure to adverse changes
Good capacity to meet its financial commitment; Size and earnings in line with peers
Nominal Interest 1)
Targeted Return 2)
Expected Cumulative Loss Rate3)
5.06 - 8.80%
4.51 - 7.91%
0.94 - 7.75%
Category
Typical Borrower Description
Collection experiences, nothing open
No loan experience, e.g. younger person or recently moved to Switzerland


Fluctuating past performance, unstable industry outlook, uncertainty to adverse changes
Satisfactory credit quality; Size and financial ratios slightly below industry norms
Inconsistent past performance with some negative outlook; exposed to adverse changes
Modest credit quality; Financial capacity temporarily below acceptable level
Nominal Interest 1)
Targeted Return 2)
Expected Cumulative Loss Rate3)
6.66 - 11.60%
6.06 - 11.02%
1.72 - 14.18%
10.00 - 12.90%
9.23 - 12.49%
2.15 - 20.05%
Category
Typical Borrower Description
Disqualifying or bad loan experiences
Financial situation not sufficient
Residency, employment, etc. criteria not met
Weak past performance, negative industry outlook, not capable of absorbing setbacks
Insufficient credit quality; Poor financial ratios; Recovery requires favorable outlook
Nominal Interest 1)
Targeted Return 2)
Expected Cumulative Loss Rate3)
1) Annual interest rate received by lenders. Interest rates on loans depend on the LEND Investment Category, Loan Term and selection of optional borrower insurance.
2) Annual return after servicing fees, which investors earn on their capital invested through LEND. Provisions for losses are not reflected.
3) The expected Cumulative Loss Rate is indicative only and based on the statistical LEND model, calibrated with industry experience data and routinely validated.
IMPORTANT: Actual returns can vary from the indicated Target Return ranges. LEND is not responsible for the financial performance of investments made through LEND.
Diversification of assets
The cornerstone of a successful investment strategy is diversification. At LEND you can allocate your investment to multiple loan projects and achieve the desired diversification effect. In a diversified portfolio a default a default has less impact which protects your expected return.
Investment opportunities at LEND
Invest in Swiss loans directly or indirectly - the choice is yours.
LEND offers private and institutional investors different opportunities to invest in personal and business loans.
In addition to direct investments, you can also automate your investments via RoboInvest. Furthermore, there is the possibility to subscribe to the LEND fund or to invest in AMCs in different currencies.
Direct investment
Via our platform you invest directly in the credit projects of your choosing and keep track of them yourself.
RoboInvest
Build your diversified Portfolio according to your specifications. Capital repayments are reinvested automatically, ensuring a constant exposure.
LEND Fund
We operate the LEND Fund together with our partner 1741 Group. The fund provides institutional investors with structured and systematic access to a Swiss credit portfolio.
For more information, please visit the 1741 Group website.
Actively Managed Certificate (AMC)
In cooperation with ISP Securities, we have set up AMCs (Actively Managed Certificates) in various currencies. These invest in LEND loans and take over the selection of suitable projects. In addition, they are tradable thanks to an integrated cash buffer.
LEND AMC in CHF: ISIN CH0565165849
LEND AMC in EUR: ISIN CH0587597003
LEND AMC in USD: ISIN CH0587596989
Payment Protection Insurance
The majority of loans on LEND are insured against the risks of unemployment, inability to work and death by our partner "Helvetia Versicherungen". The protection covers monthly payments for up to12 months (unemployment and inability to work) or the outstanding principal (death). The Payment Protection Insurance considerably reduces the risk of non-payment.
How does LEND reduce the default risk?
We reduce the default risk with multiple measures:
stringent quality- and risk assessment
Payment Protection Insurance (Helvetia)
Diversification
Constant reduction of your capital-at-risk with monthly repayments
Management of late payments
Our interests are aligned with yours, as we only earn our fee if the borrower makes the monthly payments. This guarantees that we will do our best that borrowers meet their payment obligations.
Contract management and debt collection
Should a borrower not meet his payment obligations we manage the reminder process and work with professional debt collectors to develop the best possible solution.
Who is Lend
LEND is a brand and platform operated by Switzerlend AG with its offices based in Zürich. Switzerlend has a lending license and as a financial intermediary is a member of and supervised by SRO PolyReg.
We are proud of our state of the art risk underwriting which is based on a proprietary risk model developed by LEND. We screen each borrower in close cooperation with third party information providers.