We support investors to balance their risk-return strategy
Investments and risk go hand in hand and higher risks are generally rewarded with higher returns. At LEND we provide investors with a number of tools and measures so they can effectively balance their risk appetite and build a portfolio which yields the desired return.
The LEND investment categories
Each loan application goes through our strict risk assessment and is evaluated against a set of criteria and scored with LEND's proprietary risk model. External payments databases, credit bureau information and proprietary data and models are used to classify all applications into one of 5 LEND Investment Categories, based on their probability of default. Category A displays the lowest probability, category E the highest.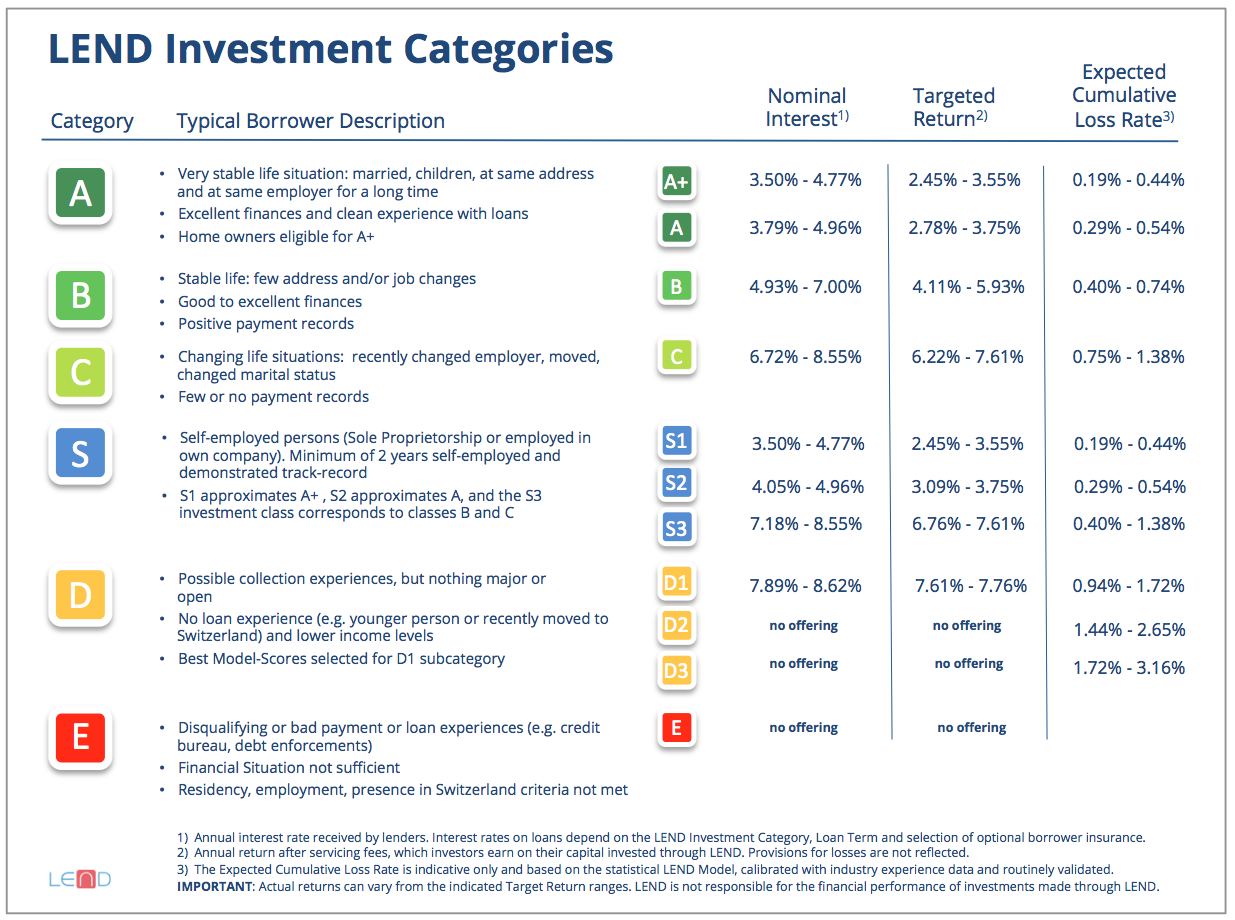 We eliminate a large fraction of applications through this rigorous screening process. Only the best borrowers, Categories A and B are offered for investing on the platform. LEND's credit risk experts continuously monitor the effectiveness of the screening measures and optimize the Category assignment so that investors can execute their portfolio strategies.
Payment protection insurance for loans
The majority of loans are insured by our partner Helvetia Versicherungen against the risks of unemployment, death and inability to work. The loan projects on our platform are respectively labelled. Helvetia Versicherungen pays the monthly loan instalments directly to LEND when the insurance coverage is activated, for up to 12 months per incident of unemployment or inability to work. In the event of death, the insurance covers the entire remaining balance of the loan. Insurance payments are credited to the lenders' account upon receipt by LEND. Thanks to the payment protection coverage, the likelihood of payment defaults is further reduced.
Diversification of your investments
Investors at LEND can build a diversified portfolio of loans by investing in a large number of loans. Investing in partial loans, as little as 1/20 of the loan amount, further diversifies the portfolio. A high degree of diversification is proven to yield more predictable results as individual payment defaults weigh less onto the overall performance of the investments. As the number of individual investments increases, the actual portfolio performance approaches the expected yield with a higher degree of certainty.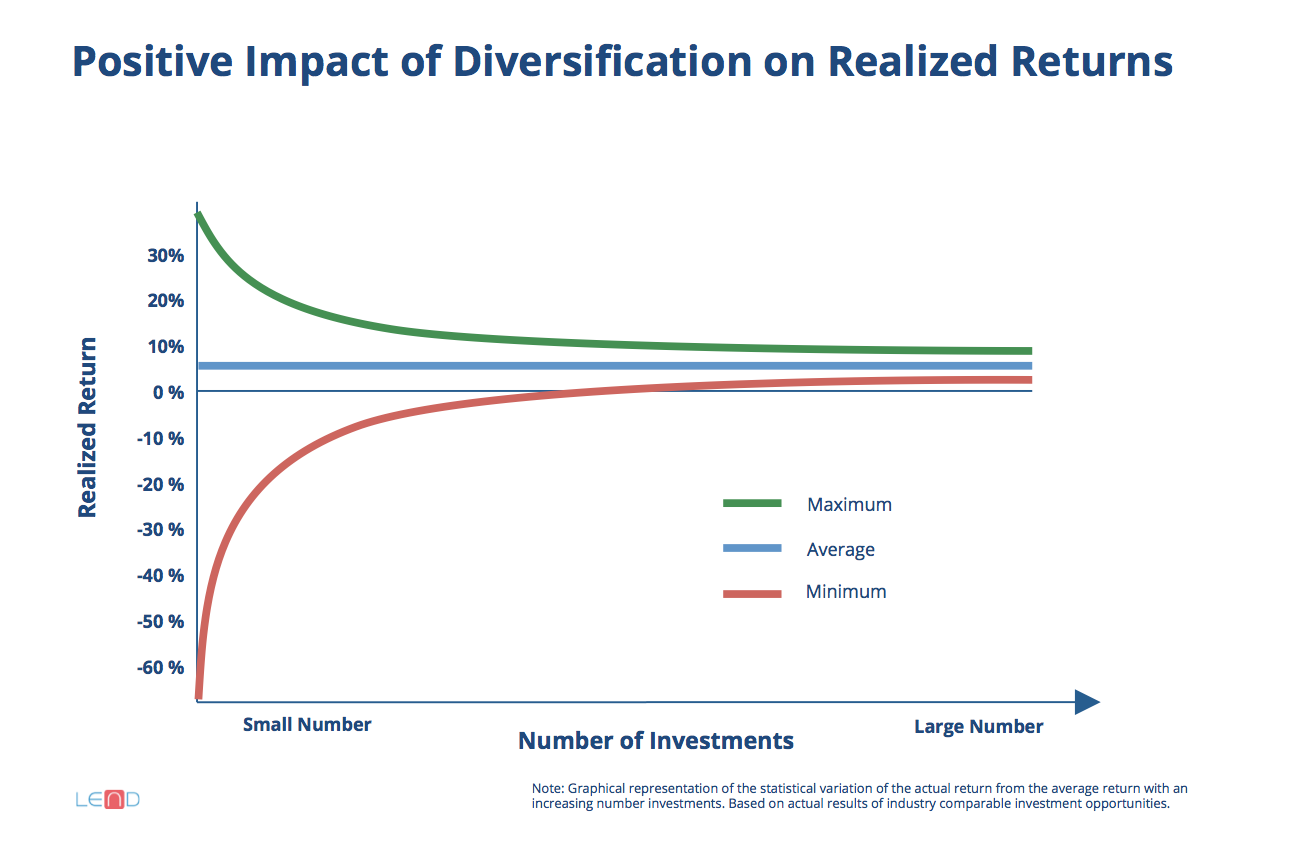 Monthly payment rhythm
Borrowers start amortising their loan with the first monthly payment. Investors therefore obtain an early and constant read on the performance of individual loans as well as their portfolio. Investors can monitor all investment and payment details in their personal LEND dashboard and adjust their investment strategy at any time.
Amortization of the loan reduces the capital at risk
Loans on LEND amortize from the first monthly payment. This means that an investor's capital at risk and any impact of default reduces as the term progresses. It also provides the investor with further opportunity to increase the earning power of his capital by investing repayments into new loan projects.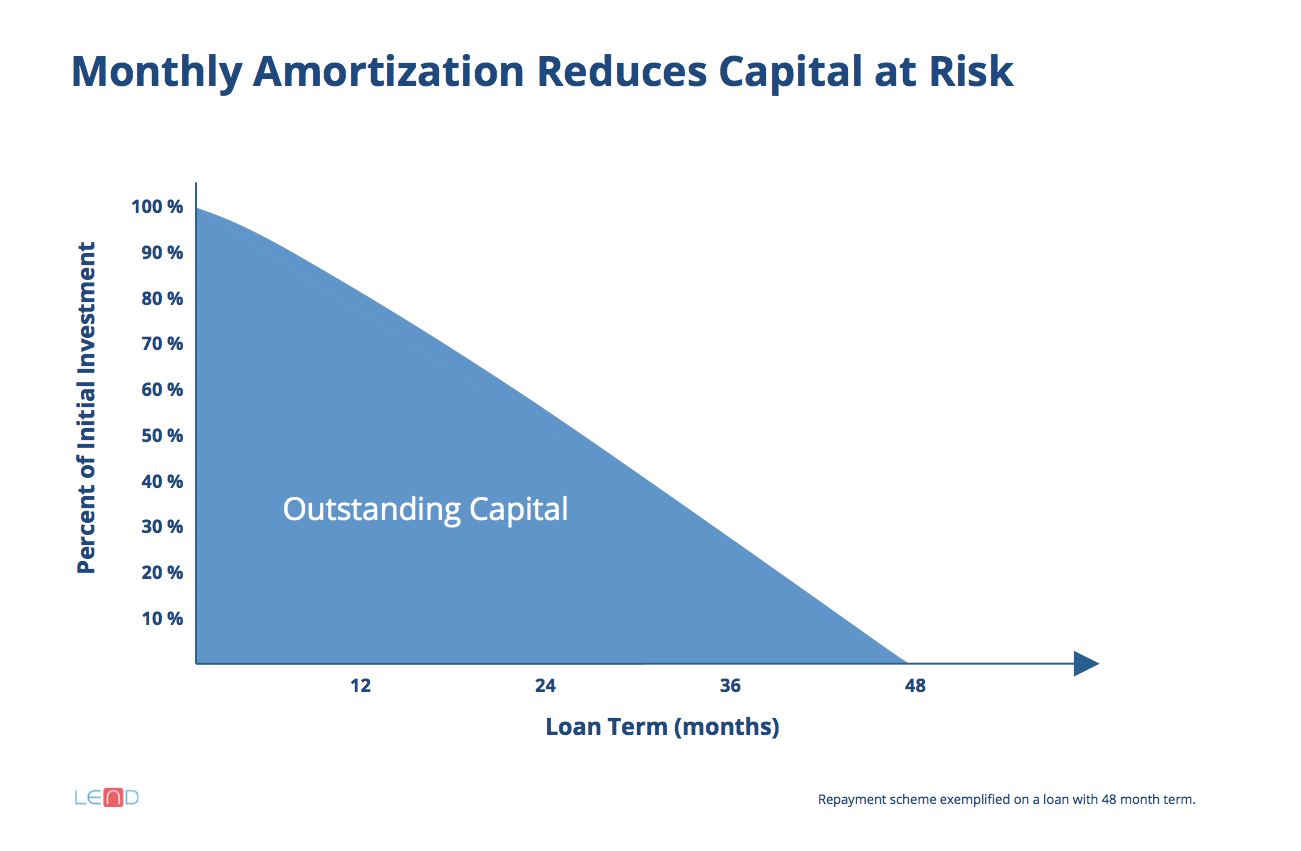 Dunning and collection processes
An automated and streamlined dunning process at LEND further supports the reduction of default risk. Reaching the late payers early is key to keeping the performance of your investments high. As our fee is dependent on borrowers making their payments, our objectives are aligned and we will always pursue the course of action that is in the investors' best interest.
Summary
There is no reward without risk. The risk of investments through LEND is rewarded with attractive interest rates. Through our approach and our tools we provide investors with ample opportunity to optimize the risk of their investment strategy and therefore achieve the desired yield on their investments.
Thorough Risk Evaluation and Scoring
Added security through Helvetia Versicherungen
Increased predictive power through diversification
Added certainty and early read through monthly repayment
Amortization reduces capital at risk
Professional support in cases of non-payments